Previous News



2017:

STATEMENT FROM SOUTHSIDE BMX CLUB

regarding having a Confederate flag logo and a decision
to now change logo and rebrand:
Southside BMX Club has over the past week, received a lot of media attention regarding the use of the Confederate flag as our club logo. This flag was chosen 37 years ago by the club, for geographical reasons, as our club is South of the River. We do not associate our flag logo with racism in any way. We recognise that with media reports from America regarding racial tensions, the flag is being increasingly associated with negative values. As a club have always promoted BMX as a positive and inclusive sport.
Our club has a strong reputation as being friendly, loyal and family oriented, with a strong volunteer base. The committee recently voted to remove the flag from our logo. However, it will take some time to decide on a new logo and a large amount of funding to implement the changes required.
We feel sad that a chapter of our history is now closed, due to our flag being changed, however we look forward to rebranding our club.
Southside BMX Club is grateful to the BMX community in WA , our state body BMX Sports WA, Department of Local Government, Sport and Cultural Industries for their ongoing support in this matter.
We feel we have made the right decision for our club and our members and we will continue to promote the sport of BMX in WA in a positive manner.
Sandra Winfield

President
Southside BMX Club
2016:

CONGRATULATIONS TO ALL SOUTHSIDE RIDERS WHO COMPETED AT THE 2016 BMX AUSTRALIA NATIONAL TITLES
Southside BMX Club would like to congratulate all it's members who made the trip to the 2016 BMXA National Championships. It was a tough track this year with some fantastic riders coming from all around the country.
Southside Riders who made the trip:
Jordan CALLUM 1A 11 -12 Boys Cruiser & 6A 11 Boys

Matthew TONGUE 2A 25 - 29 Men
Jayden KEOG 5A 13 Boys
Kesia SAVILL 6A 17-24 Women
Bianca CAMPBE 8A 15 Girls
Mitchell CAMPBELL 10 Boys Motos

Jett SMITH 11 Boys Motos
Kate TAYLOR 13 Girls Semi Final

Taylor CAMPBELL 13 Boys 1/8 Final
Isabella IERACE 14 Girls Semi Final
Dylan CALLUM 14 Boys Quarter final & 13 -14 Cruiser Semi final
Justine SHORT 17 - 24 Women Motos
Scott GASKIN 17 - 24 Men Semi Final
Rachael GASKIN Elite Women Motos
Cam AINGER Elite Men injured
Shannon LOWE 30+ Men injured
2015:
2015 BMX WA STATE CHAMPIONSHIPS
SOUTHSIDE BMX CLUB RIDER RESULTS
Congratulations to all Southside riders who rode at the BMX Sports WA State titles in Bunbury. It was a fantastic event and all riders rode extremely hard.
To see how all southside members went click here to see full results.

2013:
2013- THE YEAR IN REVIEW
SOUTHSIDE REPORT for 2013- What has been happening at Southside this year?
Southside BMX has done a huge amount of track work and upgrading of our facilities. Thanks to obtaining grants , followed by lots of hard work by our committee and loyal volunteers. 
Our work has been noticed by the Melville Times and we have been in the paper 3 times! This hard work has resulted in our club securing the BMXWA State Titles for Oct 2014.
The club also through Sandra Wilson-Savill facilitated a 3 session Girls Only coaching clinic, worth $5000 and offered to all girls in BMX in WA. We also received a volunteer grant that paid for 5 new beginner coaches and volunteer rewards and coaching at Southside has grown dramatically.
Our club numbers have exploded, topping 157 riders on several occasions with a regular 130 riders per week. We continue to promote a family friendly atmosphere and have extended our help to several other clubs including Collie and Mandurah and have sent grant info packs to Rockingham and Wanneroo. 
Our main programmes this year have been: SUPER SERIES Round 8 April 2013. This was a huge success. The track was fast, a great atmosphere and smooth running of the event. Thanks to grants from Healthways and City of Melville, we made a profit of $6800. 
GIRLS ONLY coaching clinics. Southside applied for this grant from the Dept of Sport and Recreation with the aim of getting Girls in BMX together and providing coaching , as well as getting to know each other, so that they will stay in the sport. It started out for girls in our club, but expanded to include all girls in BMX in WA.The $4690 grant will pay for 3 free coaching clinics for 45 girls with coaching by Cat Hopkins and Kirsten Dellar ,first was on 0ct 20th ,and another two sessions in November and December. 
The grant has also paid for 3 Southside female riders to become Beginner Coaches . The new coaches , Kesia Savill, Brittany Keogh and Justine Short, along with Airlie Gooden, helped with the Junior sessions and were mentored by Cat and Kirsten. These free clinics have been a massive success and after we advertised were booked out in 24 hours.  It has been a huge project and we were glad to be able to involve all Clubs.
We aim to continue next year after these clinics finish , under Cat Hopkin's guidance. The Girls Only clinics will then be paid sessions every school holidays at different tracks to continue bringing BMX girls together.  
The girls came from many clubs including:
Southside. - 10, 

Byford . -3, Bunbury - 1, Hills -12, Mandurah -3, Northam -3, Rockingham -4, Southern Districts -1, Tom price -2, Wanneroo- 4, Westside -2
SOUTHSIDE track upgrades:
This year a lot of work has been done to upgrade the track,. Work funded by the Club and and with $2,000 worth of grants.
These works have included a new ramp (which now also has a new roof over it), bitumising of the Canteen berm and construction of retaining walls. 
We still have some more plans to upgrade over Christmas, ready to host the State titles in 2014. 
COACHING at Southside :
We now have 5 new beginner coaches, their courses funded by DSR grants. Our coaching groups are growing, with many new members joining this year. Where we used to have about 24 riders being coached at the beginning of the year, we now have nearly 81 riders being coached over different days with 5 of our Beginner Southside coaches plus Jade McPherson and CatHopkins.
Southside BMX looks forward to an even bigger and better year in 2014
APRIL 2013:
SOUTHSIDE - No.1 BMX CLUB IN WA

And we've got the trophy to prove it!
Congratulations to all our Club members that represented Southside BMX Club over 3 race meets in the inaugural BMXWA Intraclub Challenge for 2013. In a very tight contest Southside emerged victorious after the final round of racing held at the Hills BMX Club on Sunday 7th April.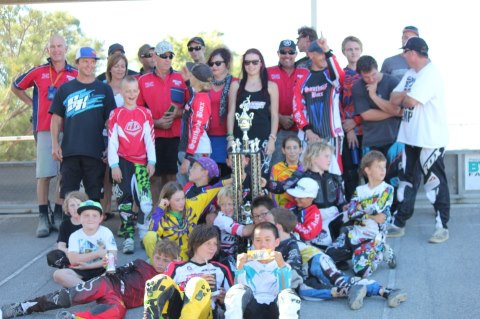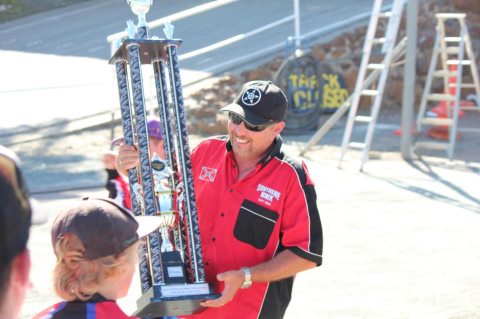 Well done, Southside!! It has been a great start to 2013.

New start ramp, new start gate and a heap of track improvements.
We are the #1 Club!!
JANUARY 2013:
New Look Southside- check out that ramp!
A huge effort over the summer holiday break saw the completion of Southside BMX Club's new start ramp. Along with the bitumising of Canteen Corner and the finish line. To everyone that gave their time and effort over many weekends the Club owes you a debt of gratitude. The works you have contributed to will be enjoyed by not only our Club members but members of the wider local community for years to come. Thanks.
Check out the story published in the local paper, Melville Times

Special mentions must go to the following people:
Sandra Wilson-Savill & Ian Ainger-for their work with the City of Melville and other Government bodies.
Dean Taylor- for his tireless efforts in the construction of the ramp
Mark Hamilton- The Man on the Bobcat.
Barry-for the bricklaying
Hal Gorey & team- for their concrete work
Oliver Mann- supplying the barrier fencing
As well as these guys, there were also a great number of people who manned shovels, pushed wheelbarrows and wrestled compactors whilst others kept the troops fed & watered. Names include: Kim Wah, Glen, Allen, Jack, Chris, Paul, Mike, Michael, Callum, Stewart, Cameron, Rob, Keith, Craig, Ellis, Tony, Chris, Vanessa, Ange,...... Apologies if I have missed anyone. All of your contributions are greatly appreciated. And again, thank you.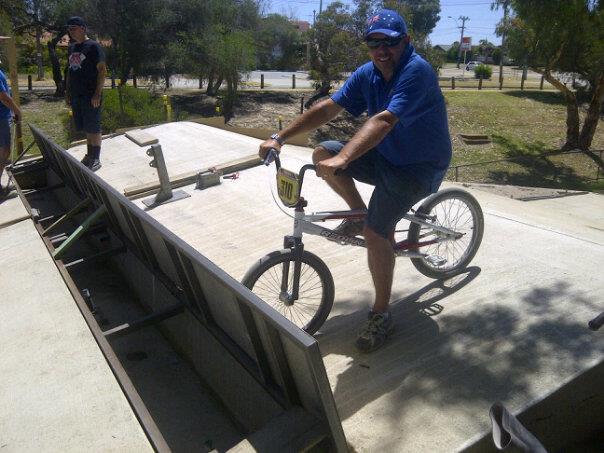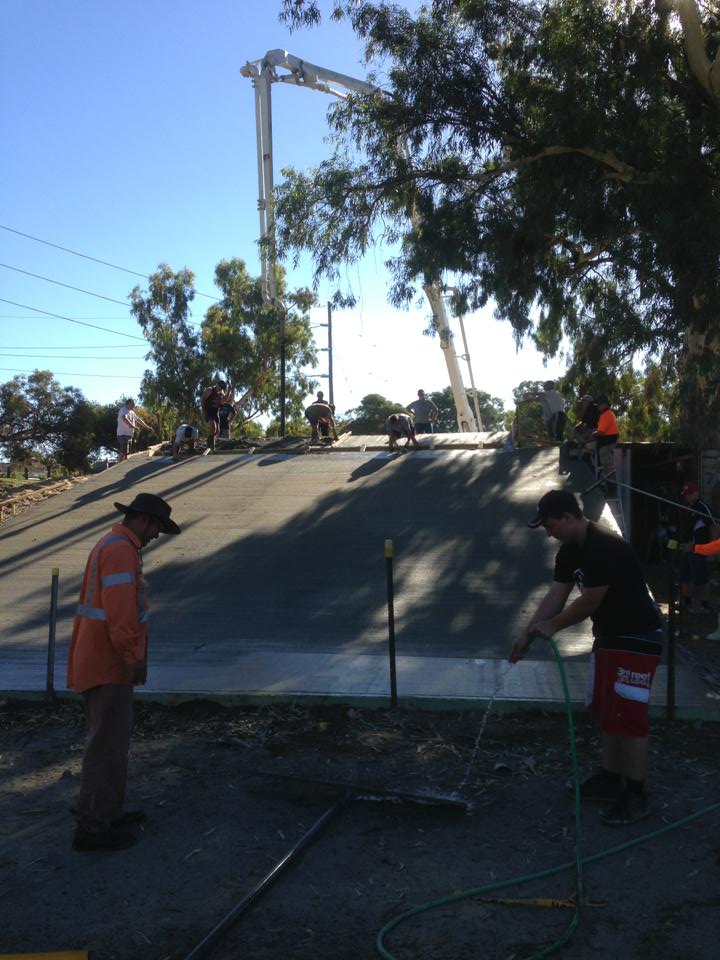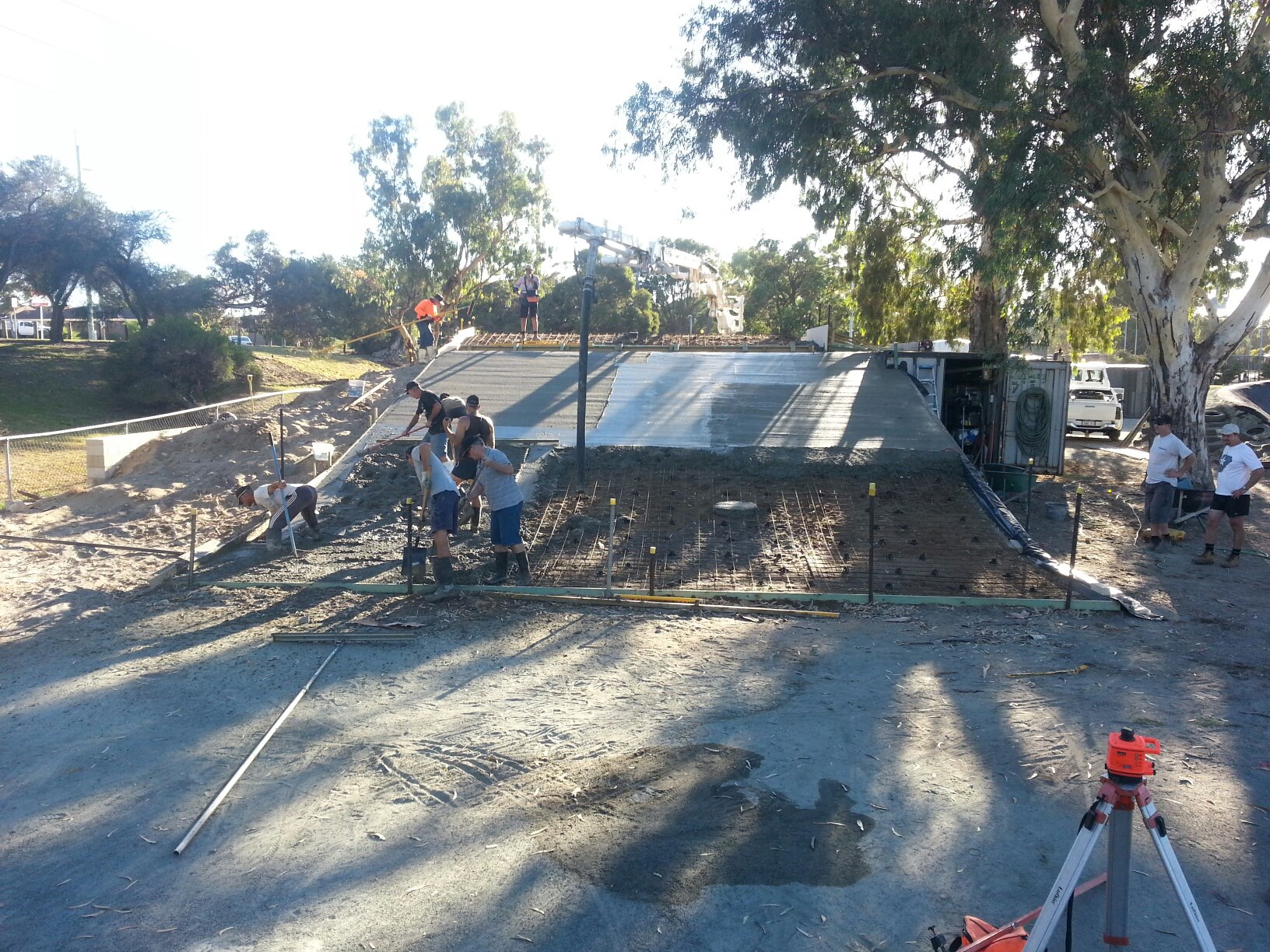 2012:
2012: The Year in Review
2012 has been huge for Southside BMX Club. We have seen a significant increase in membership numbers and lots of projects on the go.
Our vision for the year was to improve our track facilities. This was made possible by a substantial grant from the Department of Sport & Recreation. This money enabled us to construct our new start ramp and complete the bitumising of our berms. Both of the projects are near completion. During 2012 we also modified and upgraded our track.

During 2012 our Club membership numbers increased significantly to the point where we now have over 200 members. Helped by a huge response to the BMX Australia 4-month ride initiative which has brought us a large number of new members. Saturday racing at Southside now sees an average of 100 riders racing, sometimes up to 140!
2012 also saw the first Southside BMX Club Swapmeet. Held in September, this event was a great success and raised $1200 for the Club. We aim to make this an annual event.

The Club also received funding from Healthways SMA. These monies were used to purchase new club helmets & gloves and first aid equipment. It also provided for club members to attend coaching and other BMX related courses to further benefit our Club members.
2013. We still have a number of projects to underway to improve our club and are looking forward to hosting Round 4 of the 2013 WA BMX State Super Series in April.

We aim to be a fun and family friendly club whilst promoting a strong sense of club loyalty and unity. As our member numbers grow, we think this shows we are achieving our goal.
OLD NEWS:



In the news this week in 1981
STEPPING BACK IN TIME
Check out this month's Club Newsletter,,,,from 1981!
This treasure was dug from the archives as part of our 30th Birthday celebrations in 2010 and makes for some great reading.

As you read through you may spot some familiar names. There's mention of a couple of Dads that have returned to the Club with their sons, Michael Keyhoe (sic) and Shane Imgrund. There's the 'new' commentary tower for Noel Sykes, one of the founders of our Club as well details of heavy falls over the whoops, etc. And to show that nothing changes there are shout outs to those volunteers that have always been there for Southside. Enjoy.

JUNE 2012 BACK TO THE FUTURE - THE OLD SCHOOLERS ARE COMIN'

Set your DeLorean for 1981 because the old schoolers are heading back to Southside this weekend (Saturday 16 June 2012). The riders may look a little more Doc than Marty McFly nowadays but the bikes are still a sight to behold.

Old School is in from 2pm and there will also be a swapmeet for those chasing parts or under instruction to dispose.

Make sure you check out the old school crew in full flight around the track and then head back to the pits to reminisce over a great display of bikes. And the old schoolers are always up for a chin wag.
JUNE 2012- KALGOORLIE- WA SUPER SERIES 2012 ROUND 9
The June long weekend saw the WA BMX fraternity take to the road, the long road to Kalgoorlie, for Round 9 of the 2012 WA Super Series. Amongst them a large contingent of Southside riders keen to take on the brand new Kalvegas track and maybe bring home the Kalgoorlie Cup and their very own gold nugget.
To find out what went down check out this write up from Southside's own Allan Perryman.
MARCH 2012- WA BMX STATE TITLES - BUNBURY BMX CLUB

Congratulations and well done to all Southside BMX Club members that competed in the recent WA State Titles held at the Bunbury BMX Club over the weekend of March 10th/11th March

The Bunbury track offered a great challenge to all riders and made for some thrilling racing. And when the racing was all done & dusted a number of our Southside riders scored themselves a State plate for their efforts. Congratulations to these riders and all those that took part.

Check out the results and pics below. If you have some 2012 State Titles pics that you would like added please send them through to southsidebmx@hotmail.com

Rider Age Group Place
Kate Taylor 9 Girls 1st
Kate Taylor 12 & Under Girls Cruiser 2nd
Isabella Ierace 10 Girls 2nd
Jessica Wallace 8 Girls 3rd
Lilyrose Harrison 10 Girls 3rd
William Kehoe 14 Boys 3rd
Brody Ainger 16 Boys 4th
Chloe Thomas 14 Girls 4th
Jay Allen 8 Boys 4th
Rachel Gaskin 15 Girls 4th
Ethan Mann 8-10 Cruiser 5th
Jaden Flynn 9 Boys 5th
Justine Short 15 Girls 5th
Scott Gaskin 17-29 Cruiser 5th
Cameron Ainger Elite Men 6th
Thomas Gaskin 11 Boys 6th
Toby Dew 9 Boys 6th
Oscar Watts 9 Boys 7th
Ryan Cusato 13 Boys 7th
Callum Taylor 11-12 Cruiser 8th
Jay Allen 8-10 Cruiser 8th
Rider Age Group
Kyden Gibaud 7 Boys
Jett Ierace 8 Boys
Kaden Mapstone 8 Boys
Thomas Mann 8 Boys
Thomas O'Dwyer 8 Boys
Zac Butterworth 8 Boys
8-10 Cruiser
Luc Wallace 8-10 Cruiser
Cooper Mapstone 9 Boys
Luc Wallace 9 Boys
Ethan Mann 10 Boys
Jared Johnston 10 Boys
Callum Taylor 11 Boys
Kate Taylor 12 & Under Girls Cruiser
Jessica Wallace 12 & Under Girls Cruiser
Christopher Miller 17-24 Men
Jack Perryman 17-24 Men
17-29 Cruiser
Scott Gaskin 17-24 Men
Justine Short 18 & Under Womens Cruiser
Callum Flynn 30+ Men
Allan Perryman 40+ Men
40-44 Cruiser
November 2011- Old School BMX Show & Shine - Kings Park
Check out some snaps from the recent old school meet held in Kings Park, Perth. Apologies for the camera phone quality...complete with some early 80s flare.
Southside Come n Try Day 2011
Posted: 15 Oct 2011
A big thanks to all those that came along to the recent Come n Try Day held at Southside BMX Club. We hoped you had a great day and enjoyed your bmx experience.
We were also very fortunate to have the 2008 Olympian, Tanya Bailey, present on the day. Tanya gave all of the new riders a few tips and skills in negotiating the track. And our prospective new riders were keen to put these new skills into practice.
In fact some of our riders were so keen that they have joined the Club. Keep an eye out for them in the coming weeks.
Not forgetting our Club raffle which was drawn during racing on the same day. Main prize a brand new DK BMX bike. And congratulations go to the winner of the raffle, Amber.
Check out photos of the day on the Gallery page.Southside Club Racing

Posted: 26 Sept 2011
Witha nice, warm spring day, the Eagles playing a final and less than an hour to till the drop of the gate for racing the Club President was starting to wonder if they would come. Surely everyone couldn't be an Eagles supporter?! He shouldn't have worried because, sure enough, they came. Another good turnout for Saturday afternoon racing down at Southside.
Plenty of fast bmx racing and it was very pleasing to see such a large number of younger riders turning up for racing. Also a big thanks to our many new riders, there seems to be new faces every week.
Now, don't forget, we are taking a 2 week break over the school holidays and you will get your next BMX fix on Saturday 15th October. This is also our Come n Try Day so be sure to spread the word and let everyone you know that we would love to see them trackside.
Southside Club Racing- 24 Oct 2011
Well, after a fantastic spring day the previous week, this week's racing was accompanied by strong winds and preceded by a decent downpour of rain. This, combined with the competing practice session being held at the nearby Cockburn BMX Club ahead of the opening round of the 2011/2012 WA Super Series, meant we had a few less riders this week.
On a positive note the strong winds managed to blow the rain away and racing was completed without interruption. We saw some good racing and the sprockets managed not to get blown off course. Same can't be said for Jack 'Crack' Perryman. Jack turned up to race on his new 2012 Redline and then promptly managed to nosedive the canyon (yeh, old school!) on the second straight and hit the ground hard! First Aid were quickly on the scene and established that 1) Jack's helmet was not scratched 2) Jack's bike was not scratched 3) and that Jack was OK. Back on his bike Jack was heard to mumble something about some old guy getting in his way!
Thanks to all the riders and parents who turned up and to those that volunteered for duties on the day.
The forecast for this weekend is looking good and we look forward to seeing you trackside this Saturday. BTW, thanks to the Wanneroo members (Thorpy, Frans and Wes) for giving us a shout out on www.racebmxwa.net this week.
Southside Club Racing 17 Oct 20111
A beautiful spring day saw a great afternoon's racing at Southside BMX Club last Saturday. With nearly 100 hundred riders taking to the track. It was also very pleasing to see a large number of new members joining us for Round 3 of this year's racing. Welcome.
At the completion of the racing we had the trophy presentations for the recently completed Round 2. Well done to all of those that picked up a trophy. Just rewards for fast, consistent racing over the Winter round at Southside. Special mention goes to Kim Wah Seow on receiving the Southside Sportsmanship Trophy. Well deserved.
Southside BMX Club AGM - Saturday 10th September 201
Posted: 12 Sept 2011
The Club's AGM was also held last Saturday during the half-time break. All Committee positions were declared open by the outgoing Club President, Ian Ainger, and nominations were sought from those assembled to form the new Southside BMX Club Committee. As a result a number of new faces willingly stepped forward to volunteer their time and effort to the ongoing success of the Club. Thanks and good luck.
No change at the top with the dynamic duo of Ian Ainger & Paul Keogh being returned to power as President and Vice-President respectively. This will be Ian's 3rd consecutive and final year under the Club constitution as the Club President. He obviously felt that Paul needed a little more grooming before he is ready for the top job.
We now look forward to the next 12 months which should bring some exciting changes to the track. With plans for the new start hill & gate to be installed over Christmas this year before possible changes to the 2nd Straight and the bitumising of Canteen Corner.
Northwest Championships 2011
Posted: 15 June 2011
The Karratha BMX Club will host the first of three rounds of the 2011 Northwest BMX Championships on Saturday 2nd July, 2011 (a pre-event will be held on the Friday 1st). The Karratha BMX Cluib has advised that accommodation in Karratha is limited but it does have Club members that are willing to billet riders/families that are making their way North to race. For more information on accommodation please contact Greg Kiehne (Karratha BMX Club President) at gpkiehne@bigpond.com . For entry forms and race details head over to www.bmxsportswa.com.au
WA 2011 BMX State Titles
Posted: 08 March 2011
Congratulations to all the Southside BMX Club riders that competed in the recent WA 2011 BMX State Titles held at the Westside BMX track over the March long weekend. The Club was well represented both on and off the track. Your support was awesome. Well done!
A big thankyou also to those Club members that volunteered for official duties over the 2 days.
The Westside BMX Club provided a superb track, with great viewing areas. Thanks to Westside and all of their helpers and supporters.
The Southside BMX Club riders all rode to their best but special mention must go to our two new 2011 STATE CHAMPIONS:
Reid Kuller 1st 10 Boys & 8-10 Cruiser
Stuart Short 1st 17-24 Mens Cruiser
Well done, guys! And Reid went the whole weekend with our dropping a single race, a dominant performance.
As well as Reid and Stuart there were a large number of our Club members that made the Finals and collected a State plate over the weekend.
Amber Hamilton 4th 15 Girls
Brittany Keogh 6th 15 Girls
Brock McKay 3rd 14 Boys
Brody Ainger 6th 15 Boys
Cameron Ainger 7th Elite Men
Chloe Thomas 3rd 13 Girls
Chloe Thomas 6th 18 & Under Womens Cruiser
Delphine Jamet 4th 19+ Womens Cruiser
Jackson Davies 3rd 15 Boys
Jasmine Davies 6th 13 Girls
Jayden Flynn 8th 8 Boys
Justine Short 5th 18 & Under Womens Cruiser
Justine Short 6th 14 Girls
Kate Taylor 3rd 8 Girls
Kim Thomas 4th 35-39 Cruiser
Lachlan Keogh 5th 8-10 Cruiser
Lillyrose Harrison 3rd 9-10 Girls
Matthew Tongue 5th Elite Men
Michael Harper 6th 40+ Men
Rachel Gaskin 4th 14 Girls
Richard Gaskin 7th 45+ Cruiser
Ryan Cusato 8th 13 Boys
Scott Gaskin 3rd 15-16 Cruiser
Thomas Gaskin 7th 10 Boys
Tony Keogh 3rd 40-44 Cruiser
Tony Keogh 4th 30+ Men
Victor Caulton 6th 11-12 Cruiser
William Kehoe 6th 13 Boys
The WA State Championships is the pinnacle of BMX racing in this State and attracts the best riders and brings out the best racing. The 2011 WA State Championships were no different. There will always be hard luck stories of missed gates, washed out corners and other people's accidents, etc and the following riders, though they did not make the final in their respective category, they participated in this great event.
Jay Allan 7 Boys Sprocket
Kaden Mapstone 7 Boys Sprocket
Thomas O'Dwyer 7 Boys Sprocket
Zac Butterworth 7 Boys Sprocket
Callum Flynn 35-39 Cruiser
Callum Taylor 10 Boys
Cooper Mapstone 8 Boys
Delphine Jamet 16 & Over Women
Jai Thomas 9 Boys
James Hamilton 12 Boys
Jared Johnston 9 Boys
Jayden Keogh 8 Boys
Kane Vernon 25-29 Men
Kim Thomas 30+ Men
Lachlan Keogh 10 Boys
Mitch Thomas 11 Boys
Richard Gaskin 40+ Men
Robert Gosciminski 40-44 Cruiser
Scott Gaskin 16 Boys
Sean Parker 40-44 Cruiser
Stuart Short 17-24 Men
Victor Caulton 12 Boys
Yuliang Seow 11 Boys
Zane Kuller 11 Boys
We now look forward to next year and hope to see even more Southside BMX Club members there.
UPDATED: Southside BMX Club Calendar
Posted: 02 March 2011
The Southside BMX racing calendar for 2011 has been posted up on the Club Calendar page, check it out for all your race dates.
Southside BMX Club - Rnd 3 WA Super Series 2010
Updated: 15 November, 2010
Southside BMX Club hosted the 3rd round of the WA Super Series on Sunday, 14th November, 2010. Riders from all over the metro area and around the State all made their way to our track for a nice early start. The weather was fantastic, nice and warm, with just a gentle breeze. Perfect for racing.
And did we see some great racing. From the under 5s getting a round of applause as they made it across the line to the biff' 'n barge of the Pro Open class. The races were run through at a good pace and there was plenty of action. Race results can be found at www.bmxsportswa.com.au
We hope everyone enjoyed themselves and a big pat on the back to all the Southside BMX Club members for putting on a great days racing.